WEBINAR – Count On Cooling – Energy as a Service: cutting emissions, creating jobs, lowering energy bills… meeting EU climate goals - Count on Cooling
WEBINAR – Count On Cooling – Energy as a Service: cutting emissions, creating jobs, lowering energy bills… meeting EU climate goals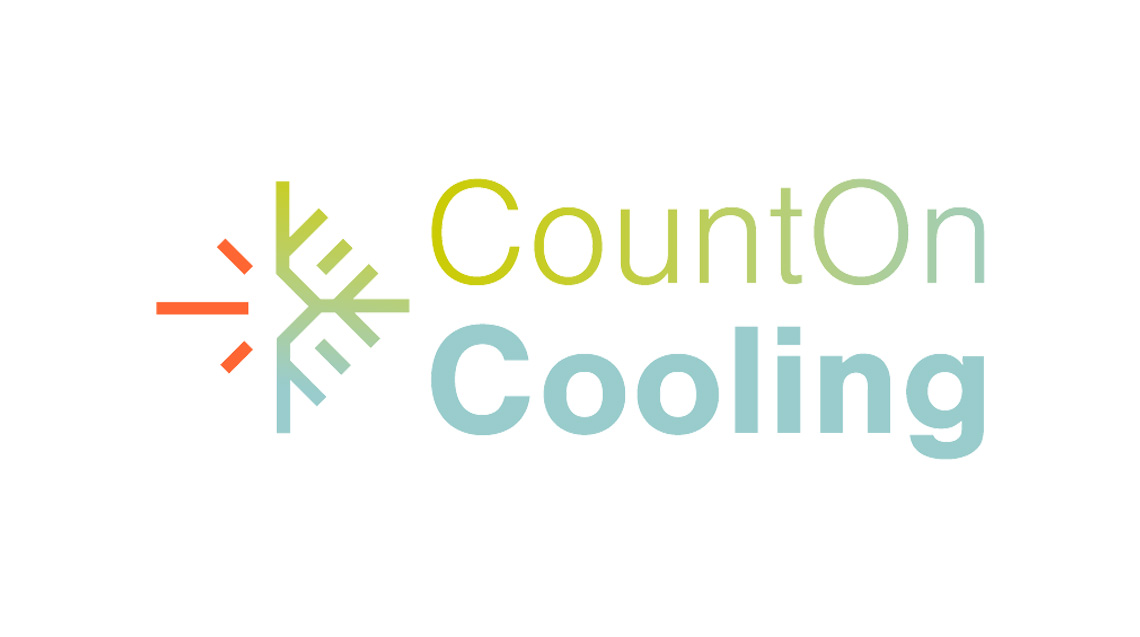 WEBINAR – Count On Cooling – Energy as a Service: cutting emissions, creating jobs, lowering energy bills… meeting EU climate goals
EPEE, representing the cooling industry in Europe, invites you to our #CountOnCooling Webinar focusing on the phenomenon of 'servicisation' in the energy sector, exploring what works, what doesn't and how it all relates to EU climate goals.
We live in a world of services. Consumers are looking for convenience and user-friendliness, buying a concept or a function rather than a product. A shift in mindset is needed to move away from complex, technology-driven products towards easy-to-manage, fully integrated solutions.
The challenge: rethinking existing relationships between producers and consumers and shifting to service-based models. Some businesses already embraced this challenge.
PROGRAMME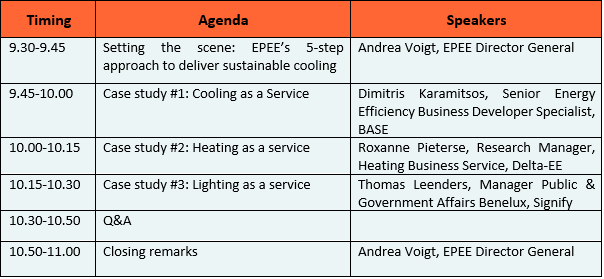 SPEAKERS' PRESENTATIONS 
Download the speakers' presentations here
DETAILS TO CONNECT TO OUR WEBINAR
You can join our webinar from your computer, tablet or smartphone using the below link.
https://global.gotomeeting.com/join/258793421
You can also dial in using your phone.
Belgium: +32 28 93 7002
Access Code: 258-793-421
More phone numbers
France: +33 170 950 590
Germany: +49 892 0194 301
Italy: +39 0 230 57 81 80
Netherlands: +31 202 251 001
Spain: +34 932 75 1230
United Kingdom: +44 330 221 0097
New to GoToMeeting? Get the app now and be ready when your first meeting starts:
https://global.gotomeeting.com/install/258793421
Dimitris Karamitsos
BASE
Dimitris is a Senior Energy Efficiency Business Developer Specialist at the Swiss organization Basel Agency for Sustainable Energy (BASE). With more than 10 years of professional experience in the field of energy and sustainable technologies, Dimitris has strong experience in valuation principles, business development, digitalisation and project execution. Within BASE, Dimitris plays a key role in accelerating the deployment of the CaaS model worldwide; supporting in technology assessment, business development and solution implementation.
---
Roxanne Pieterse
Delta-EE
Roxanne is an analyst at Delta-EE, a leading provider of research and consulting expertise on 'new energy'. Her research focuses on the new customer propositions emerging for heating products and services in the energy transition.
---
Thomas Leenders
Signify 
Building on more than 10 years' experience in marketing, sales and business development, Thomas Leenders is passionate about challenges in the areas of change programmes, new business models and stakeholder management. For Thomas, sustainability is the basis for ensuring and consolidating an economically sound organisation. In his role as Manager Public & Government Affairs Benelux and Europe, he regards sustainability as a key business driver. He motivates and inspires both captains of industry and governments to embark on a transition to a sustainable and intelligent organisation. "Signify itself is currently going through a major transition, whereby we initiate change on the basis of data and connectivity. Where we used to be known as primarily a product supplier, we are now transforming into a tech company offering smart solutions for businesses, governments and consumers," says Thomas Leenders. The highly motivated business and people manager has a reputation as a connector at all levels, and his mission is to constantly seek better and more sustainable ways to add value for his stakeholders.
---
Event Details
Date: 19/05/2020
Time:

9 h 30 min - 11 h 00 min

Event Category: Past events
Organizer
Name: EPEE

Phone:

+32 (0) 2 713 07 36

Email:

secretariat@epeeglobal.org